Aristolochia californica
California Dutchman's Pipe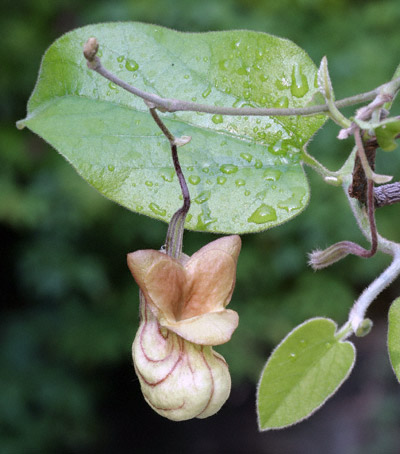 The California Dutchman's Pipe is an intriguing plant – aside from its fanciful common name. A winter deciduous semi-woody vine, its slender stems typically climb 6–12 feet over time. Its intriguing flowers are over an inch tall, and appear in spring before the rest of the plant leafs out. The leaves themselves are 1.5 to 5" long, and fringed with very short hairs.
The shape of the flowers might make you think the plant's primary purpose in life is to trap bees for the sake of pollination. However, the Dutchman's Pipe serves as a larval host plant for the beautiful blue Pipevine Swallowtail butterfly – it relies on it to lays its eggs and raise its young. (We haven't seen this butterfly in our area, but we live in hope!)
California Dutchman's Pipe is native to lower foothills over a wide range from Santa Clara, San Mateo, Marin, and Solana counties through Sacramento Valley south into the Sierra Nevada foothills in the Upper Sonoran Life Zone. It prefers shade and water. So far, we've had the most success growing it in a container in morning sun and letting it run up a trellis.